Greens Update - 17th March 2021
Dear Members,
In what have now become my quarterly updates I would like to update you on the work done over the winter period.
In November, we renovated the 2 front bunkers on 18 with astro turf faces and aquadyne drainage. They will last for many years. The land around the bunkers has been sculpted and re-turfed creating larger catchment areas which will feed stray shots into the bunkers (sorry). This has given a real quality finish to the job. Scrub and bushes have been removed to the left of the green to prevent lost balls so we can get into the bar quicker.
December and January saw record amounts of rainfall, heavy snow and cold temperatures. We took full advantage of these conditions in January to fully service all our machinery. Few clubs having the expertise we do. All our maintenance is done in house and whilst most of this hard work goes unnoticed it's this prep which really lays the ground work for each season and saves the Club thousands in maintenance fees.
We are now offering our servicing expertise to members and other clubs to generate further revenue for the Club. Please find a link to our new Northcliffe Sharpening Services (NSS) website Click Here. If you have any work you need doing or any contacts who may use our services, we would encourage you and them to do so. All money raised through NSS goes towards investment on the course, a real benefit to the Club.


Increasing rainfall year on year, old drainage and blockages caused by tree roots have caused the course to retain more water after heavy spells of rain. The following image shows the tree roots we are dealing with. As such drains were unblocked and new pipe installed on 14 and 17. A brand new drain was installed on 10. We hired a drain jetter and cleared all the blockages and pipe on our course. We have identified blockages where further work is required and we will action these in due course.
A blockage at the back of the 18th car park flooded the hole last week. This has been remedied with a small dam built at the back of the 18th car park.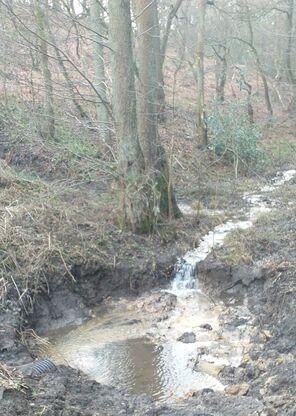 We are now in the middle of a full spring clean. The greens have had a light hollow tine and will be top dressed shortly. There has been a lot of tree damage and fallen branches due to high winds and heavy snow. All are being cleared, conifers are being pruned and this week will see the laurels on 18 pruned. Low hanging branches will be targeted around the course and members can expect to see certain trees removed through the summer to increase light and air flow around the course.
The installation of 3000m of drainage was booked to begin last Monday morning. However due to last week's rain the contractors recommended it was not appropriate to begin & we will be reviewing through the week with the aim being to begin next week. It's exciting that this work starting is now imminent. To see the drainage plan, click here.
Members can now follow our Greens Team on Twitter. If you don't have Twitter please sign up by downloading the app to your mobile phones and follow us at @ngcgreens1 or Northcliffe GC Greens for all the latest updates from the course. We post regular content with a light humour making us quite niche versus other golf clubs who are rather serious.
Finally, we enjoyed huge success last year with volunteers. If any members have some spare time between now and 29th March and would like to come volunteer, we would be grateful for your assistance. Tasks will involve tidying around the clubhouse, clearing leaves, branches and twigs on the course, divoting and putting the benches back out on the course. Many hands make light work. Please contact me if you are available and I can arrange jobs accordingly.
Robert Malloy
Greens Director
Northcliffe Golf Club